---
Captains, the 0.10 Update deploys on Friday, April 9th at ~11AM PDT. This release includes some game fixes and balance changes. 
(Note: Downtime will last approx 30 mins. Please download the latest version in the Play Store; changes may take up to 48h before they're live. Thanks! ) 
---
FEATURES
ENGINE ROOM 
New for the v0.10 Release: The Engine Room. This new feature offers variable loot boosts for PvP battle rewards to help you get the most out of your valuable limited time sessions, while still allowing you to play as much as you want.
Note: This feature will not be immediately visible after the update. It is expected to go live as of Monday morning PDT.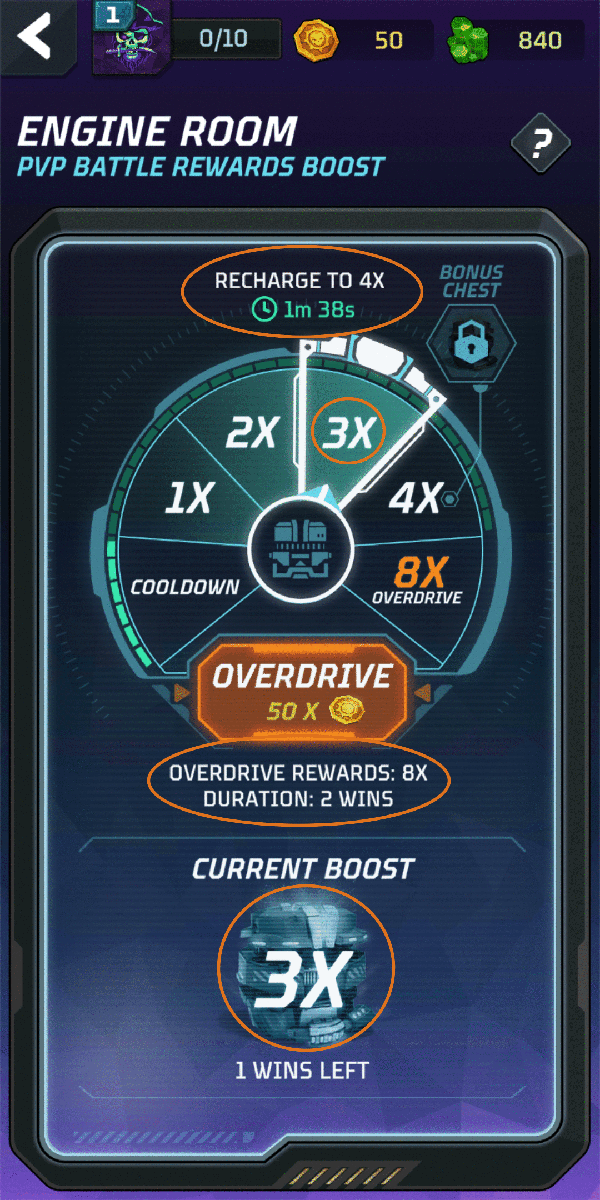 This device tells you:
Whether you're eligible for a free loot Boost during your next PvP win 

How

big

of a loot Boost you will receive on your next win (1x, 2x, 3x, 4x, or 8x)

How

many

PVP battle rewards the Boost will last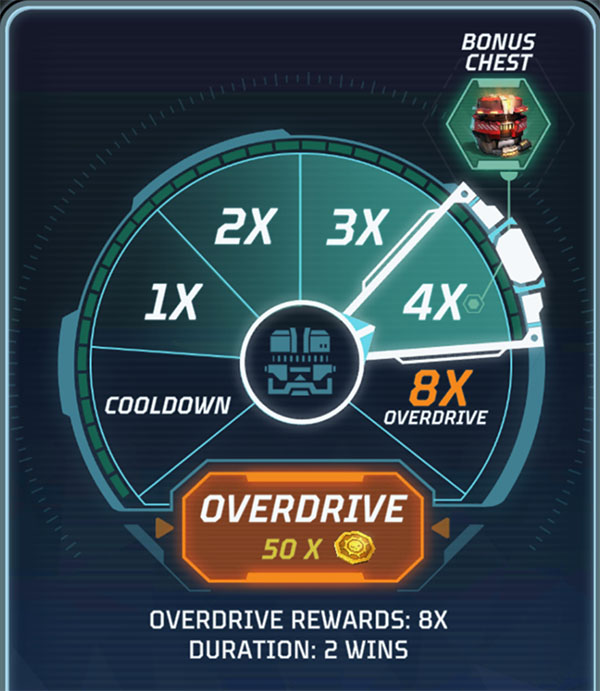 Your gauge starts at the second-highest position (or the space just before Overdrive). In the  image above, it's the 4x Boost. When you complete a battle at 4x boost, your normal post-combat rewards are multiplied by 4x. This is a quantity multiplier, which is easiest to understand in a real example:
You win a battle! In your rewards you get 5 different ship cards, and a quantity of 10 cards each.
Engine Room is currently at 4x multiplier, which affects the quantity of your cards.
Final result: 5 ship cards, a quantity of 40 cards each!
After each new Victory, the Boost dial ticks down one space. In this case it would go from 4x down to 3x Boost, meaning your next PvP battle will give you 3x the rewards.
Once you reach Cooldown, you will only earn GLORY from PvP battles. You can still play as much as you want and climb the Leaderboard for awesome season rewards, or just defeat other captains for naval notoriety.
The Boost meter will automatically reset back up to 4x Boost after the timer expires, so make sure to play enough battles to take full advantage of your Boosts! While you only get so many free Boosts per session, you can always check back to see when the next one is available.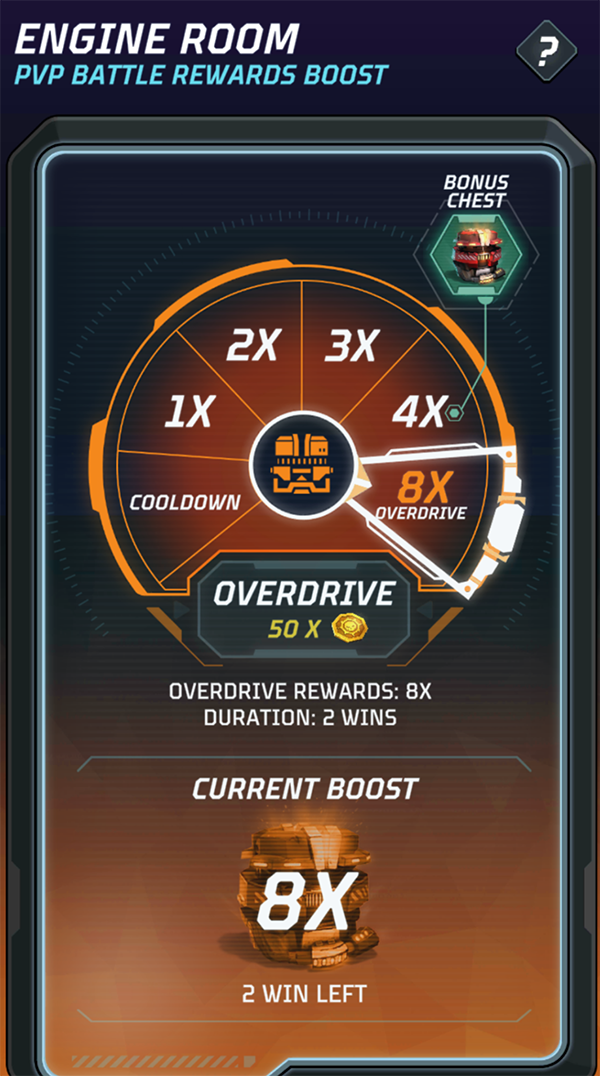 Want to earn EVEN MORE rewards from battles? Click the OVERDRIVE button to spend gold and earn 8x the rewards! You can even click this button when you're in Cooldown to start earning rewards again, if you'd rather not wait for the timer. Also, after the Cooldown expires and your meter recharges, click the Chest icon to claim your free Bonus Chest, which contains a combination of ship and Hero cards!
We suggest checking out this month's edition of On the Horizon for more information on the Engine Room, as well as some helpful tips so you can get the most out of your reward Boosts. 
---
CONTENT VISIBILITY
We're making it easier to see all Ships and Heroes currently available in the game. 
After the update, you'll be able to preview undiscovered content on your Fleet screen. Just scroll down to all your ship cards and you'll see some greyed-out cards to indicate what's coming up.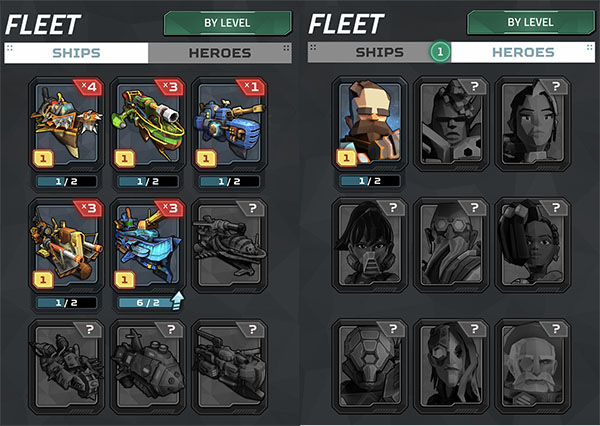 It's always exciting to see new ships and heroes, and there's always something to discover to keep strategy fresh and keep your enemies on their toes. Just click on each greyed-out image to reveal more information. 
---

TOURNAMENT RE-RUN
Pirates, due to some matching and Glory issues with the Tournament last week, we're offering you a second chance to earn excellent card payouts the Howitzer and Tripwire in a Tournament re-run this Friday. Top tier Brawlers get huge rewards—710 cards each = double the prizes! 
Join Howitzers on the Wire FRIDAY April 9th @ 1PM PDT for ONE HOUR. 
Reminder: 
Tier 1

– 1025 Glory – 40 cards each

Tier 2

– 1150 Glory – 317 cards each 

Tier 3

– 1300 Glory – 710 cards each 

All Pirates start at 1000 Glory for the Tournament 
Good luck, Captains!  
---

IMPROVEMENTS
[PERFORMANCE] Additional improvements to framerate and loading 
[GENERAL] Various game and visual improvements to keep things running smoothly 
BUG FIXES
[SHIP] Fixed issue where ship ensnared by the Tripwire didn't continue moving once the Tripwire was destroyed
[SHIP] Fixed a bug with the Flanker's health, it should now survive better in combat
---

BALANCE UPDATES & GAME CHANGES
We've made a few changes to existing BPB content. Note that these changes impact ships/Heroes at all levels. 
Hammerhead – Health reduced, deals more damage upon sprinting

Ironside – Now gains bonus damage when ordered to turn

Sawtooth – Sprint buff removed as it wasn't working, damage lowered

Battle – PvP losses no longer earn Uranium 

Battle – You'll get more consistent prizes, boosted by the Engine Room
---